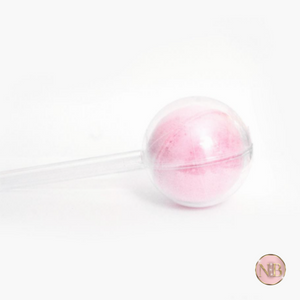 Scent: Cotton Candy Scent
HOW TO USE:
Run your bathtub water and place the bath bomb in the water after it is filled. When releasing your bath bomb into your bath water, Enjoy the essential oils with an explosion of color from your bath bomb. Suitable for one time use.
Disclaimer: Remove plastic before use. Allow the bath bomb to fully dissolve in your bath water without holding it. Holding the bath bomb while dissolving may cause temporary staining of the fingers. NIB cosmetics are handcrafted and created for each individual order. Therefore, no two products will be classified the same. Please allow for slight variations in color, weight, and appearance.  ***Use caution when exiting the tub as it may be slippery***No stains
Social Media TAG: Exfoliate yourself with our natural vegan handmade bath products. We bring your favorite sweet treats to you minus the calories leaving your skin flawless to enjoy a relaxing bathing experience with essential oils all in one.  
Ingredients : Organic Coconut Oil | Avocado Oil | Baking Soda | Organic Shea Butter | Essential Oil | Sodium Bicarbonate | Citric Acid | Glycerinum | Parfium (Fragrance) | FDA Food Colorants